Turn your home into the best on the block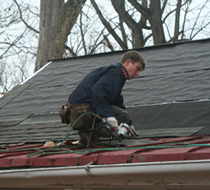 Looking to update your home's exterior? Turn to us for quality roofing and siding that will not only increase curb appeal, but also give your home the protection it needs.
Enhance your exterior
New roofs
Tear-offs
Roof repairs, including tile and slate
Flat roofs
Cedar shakes
Skylights, vents and coatings
Vinyl, aluminum, and wood siding
Soffits, fascia, gutters, downspouts, and trim
Get the best services at the right price
All work is performed by licensed and insured contractors who provide quality workmanship at competitive prices. All work is fully backed with our own personal GUARANTEE.
Find out more about the options available for you by calling us to schedule your FREE roofing or siding consultation.