It all begins with a dream
Kitchen & Bath Home Design Remodeler
Create a beautiful space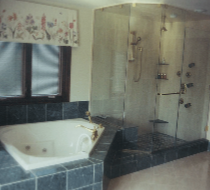 If you're looking for a way to add beauty and value to your home, remodeling your kitchen or bathroom is the perfect solution. In short, our professional team will design your dreams.
Kitchen and bath design that fit your budget
• Firstly, Countertops, including granite, laminate, marble, and quartz
• Custom cabinets
• Bathroom vanities
• Wood, tile, and ceramic flooring
• Tubs, whirlpools, showers, and steam baths
• Kitchen and bath fixtures
• Lighting, electrical, and plumbing work
• Lastly, Handicap accessibility
Make your home more luxurious
As a result of our dedication to your needs, you'll find that we offer a variety of colors, styles, and products for you to choose from. Consequently, this makes it easy for you to remodel your home while staying within your budget.
Quality workmanship for over 40 years. – References gladly given. – So, call today for your FREE design consultation.